Lackland Air Force instructor faces sexual assault charges
Ten female recruits are expected to testify in the trial of Staff Sgt. Luis Walker at Lackland Air Force base. They say Walker either sexually assaulted or engaged in inappropriate sexual conduct. Walker is among 12 instructors at Lackland in San Antonio who are being investigated.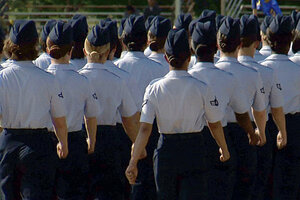 (AP Photo/John L. Mone)
Military officials say the initial flirtations that Staff Sgt. Luis Walker directed at the women he trained at a Texas Air Force base grew into something more sinister: threats and intimidation that eventually led to rape.
in a widening sex scandal that has rocked one of the nation's busiest military training centers.
"We haven't had a case of this magnitude, certainly in recent memory," said Brent Boller, a spokesman for Joint Base San Antonio, which operates Lackland.
Walker's court-martial is scheduled to begin Monday.
IN PICTURES: Women in the military
He faces the most serious charges in the case — 28 counts, including rape, aggravated sexual contact and multiple counts of aggravated sexual assault. He could get up to life in prison and a dishonorable discharge if convicted.
The 10 female recruits Walker is accused of either sexually assaulting or engaging in inappropriate sexual conduct with are expected to testify during the court-martial at Lackland. A seven-member jury made up of military personnel will decide the case.
At least 31 female trainees have been identified as victims in the sex scandal.
Officials at Lackland are calling Walker's court-martial the "cornerstone case" in the ongoing investigation.
Walker's civilian attorney, Joseph Esparza, declined to comment.
A two-star general, Maj. Gen. Margaret H. Woodward, has also launched a separate, independent investigation that military prosecutors say could sweep up more airmen.
Advocates for female service members and members of Congress have started taking notice.
"It's a pretty big scandal the Air Force is having to deal with at this point," Greg Jacob, a former Marine infantry officer and policy director of the Service Women's Action Network, said last month. "It's pretty substantial in its scope."
The start of the court-martial Monday is expected to mostly deal with procedural matters. Testimony in the case is not likely to begin until Tuesday.
---