Justice Scalia says he and Roberts aren't feuding
In an interview with CNN Justice Scalia put to rest rumors that he and Chief Justice Roberts clashed over the healthcare decision.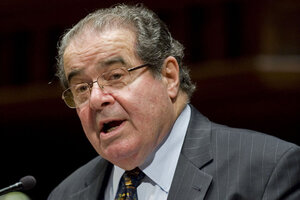 Jessica Hill/AP/File
Justice Antonin Scalia says he hasn't had a "falling out" with Chief Justice John Roberts over the Supreme Court's landmark 5-4 decision validating much of President Barack Obama's health care overhaul.
In an interview to be aired Wednesday on CNN's "Piers Morgan Tonight," the justice said despite reports that he and Roberts had clashed, there is not a personal feud going on between the court's two leading conservatives.
"There are clashes on legal questions but not personally," Scalia said of the court.
The Supreme Court earlier this month upheld much of Obama's signature health care law, with Roberts siding with the court's liberals to uphold the hotly debated core requirement that nearly every American have health insurance. The decision allowed the law to go forward with its aim of covering more than 30 million uninsured Americans.
Since then, Roberts has been the focus of derision from some of the nation's leading conservatives, and there have been reports of fractures in the relationships on the court's conservative wing, of which Roberts and Scalia are members.
"No, I haven't had a falling out with Justice Roberts," Scalia said, when asked about a purported clash between him and Roberts.
"Loud words exchanged, slamming of doors?" prompted Morgan.
"No, no, nothing like that," Scalia said.
Scalia also defended the court's 2-year-old decision in Citizens United to give corporate and labor union interests the right to spend freely to advocate for or against candidates for state and local offices.
---