Colorado shooting suspect James Holmes was an 'unusually bad intern'
James Holmes was an academic achiever, but there were hints of a troubled young man. John Jacobson, Holmes' supervisor at Salk Institute described him as "oddly stubborn.' A Colorado gun club rejected him after hearing his 'guttural rambling' on a voice message.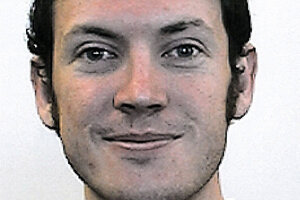 (AP Photo/University of Colorado)
Aurora, Colo., and San Diego
For most of his 24 years, James Holmes seemed to be doing everything right.
He worked for a summer as a counselor at a camp for needy kids, guiding them through activities designed to teach empathy, compassion and good citizenship. Another summer, he snagged a prestigious internship at the Salk Institute for Biological Studies.
He attended church with his family in their quiet, upper-middle-class San Diego neighborhood, listening to his sister play bass in the worship band. He breezed through high school and college, taking a strong interest in science and graduating with honors from the University of California, Riverside.
Friends and acquaintances of Holmes say they had no inkling that anything was awry with him -- much less that he would be arrested Friday morning outside a movie theater in Aurora, Colorado, clad head to toe in body armor and accused of killing 12 people and injuring 58 in one of the worst mass shootings in U.S. history.
RECOMMENDED: Take the second amendment quiz
"It's absurd. It's so out of character for this young man," said Jerry Borgie, senior pastor at Penasquitos Lutheran Church in San Diego, where the Holmes family worshipped. "James had goals. He was going to succeed."
But a few hints have emerged in recent days that Holmes may have struggled far more than those around him realized.
---