Obama campaign: 'If we don't step it up, we're in trouble'
For the third month, Mitt Romney's campaign has out-fundraised Obama's. But with three months until election day, the Obama campaign is not changing tack.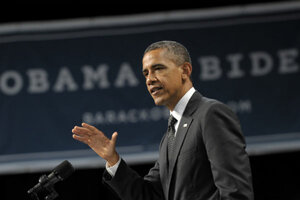 AP Photo/Susan Walsh
Can President Barack Obama raise the money he needs to hold onto the White House?
Money wasn't supposed to be a worry for the president's campaign, which smashed fundraising records in 2008. But Mitt Romney's team has hauled in more than Obama and his allies for a third straight month, raising the once-unthinkable question.
While the race for voter support is tight, according to polls, Romney's robust fundraising and a crush of money from Republican-leaning political action committees have forced the president's campaign to spend heavily through the summer.
Highlighting the challenge for Obama, Romney on Monday reported a July fundraising haul of more than $101 million along with the Republican National Committee, compared to the $75 million that Obama's campaign said it had brought in along with the Democratic National Committee.
During a fundraiser in Stamford, Conn., Obama said Romney's tax proposal would benefit the wealthy at the expense of many middle-class families. "It's like Robin Hood in reverse," he said. "It's Romney Hood."Romney campaign spokesman Ryan Williams countered that Obama was the only "candidate in this race who's going to raise taxes on the American people."
---