Isaac bears down on Florida, but Keys residents remain sunny
On Sunday, Tropical Storm Isaac skirted the Florida Keys, but barely ruffled residents. The storm is expected to gain strength, and could become a Category 2 hurricane Tuesday or Wednesday.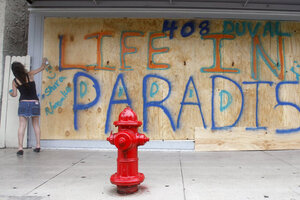 Alan Diaz/AP
Tropical Storm Isaac barely stirred Florida Keys residents from their fabled nonchalance Sunday, while the Gulf Coast braced for the possibility that the sprawling storm will strengthen into a dangerous hurricane by the time it makes landfall there.
Isaac was expected to cross the Keys by late afternoon, then turn northwest and strike as a Category 2 hurricane somewhere between the New Orleans area to the Florida Panhandle on Wednesday, the seventh anniversary of Hurricane Katrina.
The storm was predicted to pass west of Tampa, the site of the Republican National Convention, but it had already disrupted the schedule there because of the likelihood of heavy rain and strong winds.
Even before reaching hurricane strength, Isaac caused considerable inconvenience, with hundreds of flights canceled at airports in Miami and Fort Lauderdale. There were scattered power outages from Key West to Fort Lauderdale affecting more than 6,000 customers, and flooding occurred in low-lying areas.
---