When do budget cuts go too deep?
The Republican National Convention and Hurricane Issac spotlight a conundrum for the GOP, reducing the size of the government sounds good until the waters start rising.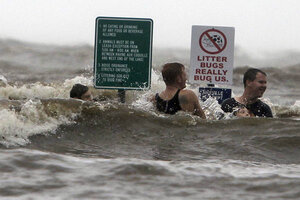 Ted Jackson/AP
At their convention, Republican leaders are taking the stage to push for less government and accuse President Barack Obama of profligate spending. About 500 miles away, under threat from a hurricane, Republicans welcomed federal government aid and at least one GOP governor accused Obama of being miserly with the help.
The chance occurrence of a political convention and a Gulf State emergency unfolding in split-screen real time is creating a clash between rhetoric and reality. The calls for fiscal discipline echoing the convention hall in Tampa, Fla., aren't reverberating in drenched and wind-whipped Louisiana or Mississippi.
The contrast illustrates one the sharpest conundrums facing a nation of giant budget deficits. Reducing the size of government sounds good until someone feels the pinch.
Obama issued disaster declarations this week for Louisiana and Mississippi ahead of the now downgraded Tropical Storm Isaac, guaranteeing federal emergency aid in designated counties. And the federal government has deployed manpower and equipment, such as Air Force Reserve "Hurricane Hunters" to conduct aerial reconnaissance on the storm and Federal Emergency Management Agency teams to help with logistics and provide other assistance.
Officials had no estimate of how much had already been spent on the effort. Altogether, the government's federal disaster fund has about $1.5 billion available.
---