Harvard cheating evidence prompts investigation
Harvard cheating scandal: Harvard University is investigating possible cheating on a take-home exam. Harvard says that as many as half of a class of 250 students may have been involved in cheating.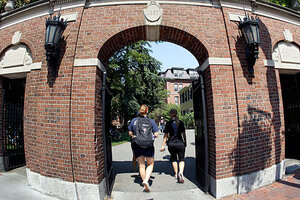 (AP Photo/Elise Amendola)
Harvard University is investigating whether dozens of undergraduate students cheated on a take-home exam last spring.
School officials said they discovered students may have shared answers or plagiarized on a final exam. They declined to release the name of the class, the students' names or the exact number being investigated, citing privacy laws.
The undergraduate class had a minimum of 250 students and possible cheating was discovered in roughly half the take-home exams, university officials said Thursday.
"These allegations, if proven, represent totally unacceptable behavior that betrays the trust upon which intellectual inquiry at Harvard depends," President Drew Faust said.
RECOMMENDED: Are you as well read as a 10th grader?
A Harvard spokesman said he knows of no incidents in recent memory of possible cheating at the university on this scale.
Each student whose work is in question has been called to appear before a subcommittee of the Harvard College Administrative Board, which reviews issues of academic integrity, said Jay M. Harris, dean of undergraduate education. He emphasized that none of the allegations has been proven and said there's no evidence of widespread cheating at Harvard.
"The facts that are before us are that we have a problem in this one course," Harris said. "I hope that doesn't sound overly naive, I don't want to be naive, but this is what we have. The rest would be speculation.
"Looking at the students we have and the work that they do, I would be loathe to say this is something that represents Harvard students generally."
---