Isaac leaves lots of water and power outages in its wake
The storm that first hit Louisiana Tuesday is moving into the nation's heartland, as of Friday. Thousands have been washed out of their homes and left in the dark.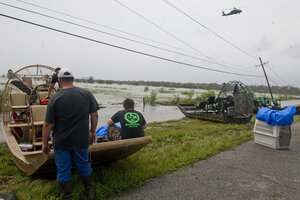 Ann Hermes / The Christian Science Monitor
Isaac sloshed northwards into the nation's midsection Friday after flooding stretches of Louisiana and knocking out power, leaving entire water-logged neighborhoods without lights, air conditioning or clean water.
It will be a few days before the soupy brown water recedes and people forced out of flooded neighborhoods can return home.
And the damage may not be done. Officials were pumping water from a reservoir to ease the pressure behind an Isaac-stressed dam in Mississippi on the Louisiana border. In Arkansas, power lines were downed and trees knocked over as Isaac moved north into the state.
The earthen dam on Lake Tangipahoa could unleash a 17-foot flood crest downstream in Louisiana if it were to give way, which prompted evacuations in small towns and rural areas Thursday. Officials released extra water through the dam and were considering punching a hole in it to lower the rain-swollen reservoir.
New Orleans, spared any major damage, lifted its curfew and returned to its usual liveliness, although it was dampened by heavy humidity.
"I have a battery-operated fan. This is the only thing keeping me going," said Rhyn Pate, a food services worker who sat under the eaves of a porch with other renters, making the best of the circumstances. "And a fly swatter to keep the bugs off me — and the most important thing, insect repellent."
The heat was getting to Marguerite Boudreaux, 85, in Gretna, a suburb of New Orleans.
"I have a daughter who is an invalid and then my husband is 90 years old, so he's slowing down a lot," she said, red in the face as she stood in the doorway of her house, damp and musky from the lack of air conditioning.
Isaac dumped as much as 16 inches of rain in some areas, and about 500 people had to be rescued by boat or high-water vehicles.
At least five deaths were reported in Louisiana and Mississippi.
---