Obama calls GOP 'dead wrong' for saying US in decline
President Barack Obama offered an optimistic message on the campaign trail in Florida. He said America, diverse and talented, is still on top, and promised to reduce the deficit without harming the middle class.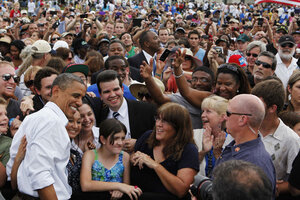 Larry Downing/Reuters
President Barack Obama on Saturday pronounced Republicans "dead wrong" in calling America a country in decline, offering a rebuttal to the "naysayers" who drew attention to the nation's staggering debt and anemic job growth.
Obama and Republican rival Mitt Romney clawed for advantage in a post-convention push through some of the most closely contested states that marked the opening of the homestretch of the tight race.
Obama told a spirited rally that America's "basic bargain" is at stake in the election, the promise that "if you work hard it will pay off." He pledged to make education more affordable, reduce dependence on foreign oil and slash deficits "without sticking it to the middle class" if he gets another term.
Romney, who spent much of the week preparing for debates and laying low during the Democratic convention, was back in motion with a planned Virginia Beach rally and visit to a NASCAR rally in Richmond, Va.,
Virginia and Florida are two of a handful of states that could determine the outcome of the election.
Obama reached for some Ronald Reagan-like optimism in hard times, telling his audience that much about America is essentially right.
---