Tigers' Cabrera earns baseball's first Triple Crown in 45 years
Detroit's Miguel Cabrera became the 15th player in Major League history to capture the American League batting title, plus compile the top home run and RBI totals this season.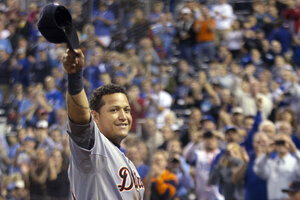 Orlin Wagner/AP
Miguel Cabrera had just achieved baseball immortality, and everyone around him knew it.
Tigers manager Jim Leyland had tears welling in his eyes. General manager Dave Dombrowski kept trying to remind people to stop and enjoy the moment. Prince Fielder simply shook his head in disbelief at the history that had unfolded.
Less than an hour earlier, in the midst of Detroit's otherwise meaningless 1-0 victory over Kansas City, it had finally become official: Cabrera had won the Triple Crown.
"Everybody said to me it was unbelievable. They were all excited to see this, enjoy this, be a part of something big," he said, taking the rare feat in stride better than anyone.
Cabrera finished the regular-season hitting .330 with 44 homers and 139 RBIs, leading the American League in all three statistical categories, making him just the 15th player to achieve the Triple Crown and the first since Boston's Carl Yastrzemski in 1967.
"I've managed a lot of players, managed some great ones, but I've never seen anything like this," Leyland said. "When you're sitting back and it's over with, people are talking about Miguel Cabrera, the rest of the world will have no idea who his manager was, but I will."
Among those in one of baseball's most exclusive clubs are Lou Gehrig, Ted Williams, Mickey Mantle and Frank Robinson, who called it "an incredible accomplishment for a gifted young man, and Miguel should be proud of his all-around excellence and consistency throughout the season."
---