Fenway Park's 100th anniversary team: Where do you put Ted Willams?
Fenway Park: Who are the best Red Sox players of the past 100 years? The Monitor goes outside the box to name its lineup.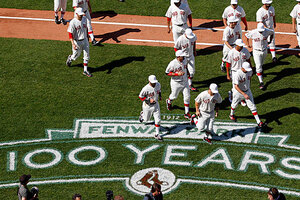 REUTERS/Jessica Rinaldi
If you were selecting the best Boston Red Sox players of the past 100 years, would Babe Ruth make the cut? And what about Ted Williams?
No-brainer selections, right? Well, not so fast.
If you voted in the online balloting for club's All-Fenway Park 100th Anniversary Team then you know just how agonizing it was to complete the lineup card.
The results, which the team announced during its final 2012 home game, should fuel some arguments, especially at certain positions. Left field in particular is a tough call given the presence of three Hall of Famers on the ballot: Ted Williams, Carl Yastrzemski, and Jim Rice.
Who would you choose?
Creating such a straight-laced, by-the-book ballot seems unnecessarily rigid, which is why the Monitor has scrapped it to name an All-Fenway team that takes some liberties in making out its lineup.
So here's our custom All-Fenway Park Centennial Team:
Right-handed pitcher – Roger Clemens
Obviously there's potential for controversy here. Although cleared of perjury charges recently, Clemens hasn't convinced everybody that he was "clean" throughout his 24-year career. But given that the All-Fenway team should be about what a player did in a Red Sox uniform, Clemens is our man. If he ever did take steroids, it allegedly wasn't until long after he left Boston.
---