California gas prices just keep climbing
The price of gas in California reached an all-time high twice this weekend. The average price in the state is now $4.655 a gallon, almost a quarter more than the Hawaii, the state with the second-highest gas prices.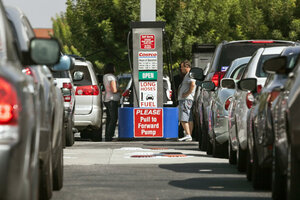 Damian Dovarganes/AP
Gasoline prices in California rose to another all-time high on Sunday after passing a four-year high a day earlier, according to AAA.
The four-cent-per-gallon jump Sunday was even bigger than Saturday's jump, which was just a fraction of a penny.
AAA reported in its latest update on Sunday that the statewide average price for a gallon of regular unleaded gasoline is $4.655. Saturday's average of $4.6140 was the highest since June 19, 2008, when it was $4.6096.
Sunday's price, like Saturday's, was the highest in the nation, with the Golden State leapfrogging Hawaii this week as the state with the most expensive fuel due to a temporary reduction in supply.
Californians are paying 24 cents per gallon more than motorists in Hawaii, according to the AAA report. In some locations, fuming motorists paid $5 or more per gallon while station owners had to shut down pumps in others.
"I seriously thought it was a mistake on the sign when we pulled in," said Nancy Garcia, 34, while filling her Honda Accord at a Chevron station in the Los Angeles neighborhood of Highland Park. She paid $4.65 a gallon for regular grade and said she couldn't afford to fill her tank all the way.
---