NFL's Goodell upholds some player suspensions in Saints' 'Bountygate' probe
NFL commissioner Roger Goodell says Saint players Jonathan Vilma and Will Smith must sit out several games this season. But he reduced the penalties on former Saints Scott Fujita and Anthony Hargrove.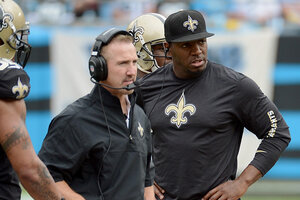 Jeff Siner, The Charlotte Observer/AP
NFL Commissioner Roger Goodell upheld the suspensions of Jonathan Vilma and Will Smith on Tuesday for their role in the New Orleans Saints bounty scandal and reduced penalties for Scott Fujita and Anthony Hargrove.
Though an appeal panel created by the NFL's labor agreement vacated the original suspensions on technical grounds, Goodell ruled he was sticking with his decision to suspend Vilma for the season and Smith for four games.
Hargrove, a free agent defensive lineman, will face a two-game suspension once he signs with a team. He originally was hit with eight games, but that was reduced to seven with five games already served. Fujita, who plays for Cleveland, will now miss only one game instead of three.
The responses of Vilma, Smith and the NFL Players Association left little doubt that the seven-month-old bounty saga is far from over.
Vilma said on Twitter that the new ruling "this is not news to me pride won't let him admit he's wrong." Smith issued a statement saying he will continue to explore his appeal options.
Vilma's attorney, Peter Ginsberg, said in a statement that Goodell's new ruling "continues his previous grossly misplaced interpretation of the 'evidence.' What the Commissioner did today is not justice, nor just. The suspension has the fingerprints of lawyers trying to fit a square peg into a round hole."
---