Can eight touchdowns in one game win the Heisman?
West Virginia quarterback Geno Smith staked a claim to college football's top award with an extraordinary passing game Saturday vs. Baylor.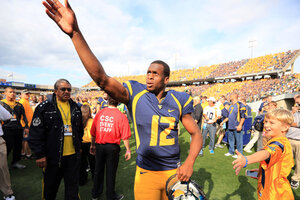 Christopher Jackson/AP
The Heisman Trophy is never won on the basis of what a player does in just one game, but it takes a signature game to become a strong contender. West Virginia quarterback Geno Smith delivered that in spades Saturday against Baylor. By throwing for eight touchdowns in the Mountaineers' 70-63 win, he vaulted to the top of just about everybody's Heisman scorecard.
Eighth-ranked West Virginia clearly needed every one of Smith's TD tosses to hold off the 25th-ranked visitors, who themselves got a spectacular game from Nick Florence. His 581 yards passing yards broke the school record of his successor, Robert Griffin III ('RG3'), who won last year's Heisman Trophy.
Between Smith and Florence, they threw for a combined 1,237 yards, just 16 yards shy of the NCAA record for passing yards by two opposing players set by Texas Christian's Matt Vogler and Houston's David Klinger in 1990 during TCU's 56-35 victory.
---