In New York: Back to school after Sandy
Monday marked another attempt at returning to normalcy in New York; 94 percent of the city's public schools reopened. Though most have reopened, some schools still lack power and heat.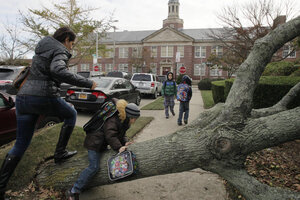 Mark Lennihan/AP
Nearly a million New York public school students returned to class on Monday after a week at home following superstorm Sandy, although many wore extra layers while janitors repaired drowned heating systems.
About 94 percent of the city's 1,700 public schools reopened on Monday, Mayor Michael Bloomberg said during a visit to a school in Brooklyn that had its basement flooded by the storm last week. The school's power and heating have been restored.
Despite gas shortages, jammed roads, closed subway lines and overcrowded buses on Monday morning, about 86 percent of students in the biggest US school system made it to class, according to provisional attendance figures.
"That's about the same as on the Monday before Election Day last year, and we didn't have Sandy last year so it really is great," Bloomberg said. The USgeneral election is on Tuesday.
Sandy, which brought catastrophic flooding, power outages and structural damage across the US East Coast, caused the biggest disruption to New York schools since the attacks of Sept. 11, 2001, several officials said.
Many school buildings were still being used as emergency shelters until the weekend, and would be transformed again on Tuesday into polling stations.
Nearly 100 schools were still without power, structurally damaged or still in use as shelters on Monday morning.
---