Hillary Clinton's Middle East trip canceled due to ill health
Secretary of State Hillary Clinton will not be visiting Morocco and the Middle East as planned. The State Department said a stomach bug has Clinton temporarily out of commission.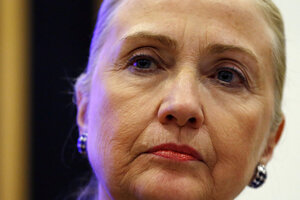 Kevin Lamarque/AP
U.S. Secretary of State Hillary Clinton has canceled her trip to Morocco this week for a meeting on the future of Syria's opposition because of a stomach virus, the State Department said on Monday.
Deputy Secretary of State Bill Burns will travel to the meeting in her place.
---