Secret shuttle launch: US military's X-37B to spy on Middle East?
Secret shuttle launch goes off without a hitch Tuesday. But what is the secret mission of X-37B? The robotic, military shuttle spent seven months in space during its last mission. It could be spying on terrorists, speculates one scientist.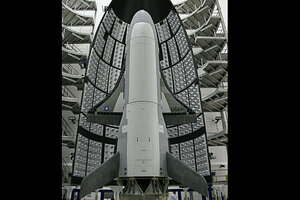 U.S. AIR FORCE VIA NASA/AP
The military's small, top-secret version of the space shuttle rocketed into orbit Tuesday for a repeat mystery mission, two years after making the first flight of its kind.
The Air Force launched the unmanned, robotic spacecraft Tuesday hidden on top of an Atlas V rocket.
It's the third flight for the X-37B spaceplane. It circled the planet for seven months in 2010. A second X-37B spacecraft spent more than a year in orbit.
These high-tech mystery machines — 29 feet long — are about one-quarter the size of NASA's old space shuttles and can land automatically on a runway. The two previous touchdowns occurred in southern California; this one might end on NASA's three-mile-long runway once reserved for the space agency's shuttles.
The military isn't saying much if anything about this new secret mission. In fact, launch commentary ended 17 minutes into the flight.
But one scientific observer, Harvard University's Jonathan McDowell of the Harvard-Smithsonian Center for Astrophysics, speculates the spaceplane is carrying sensors designed for spying and likely is serving as a testbed for future satellites.
While acknowledging he does not know what the spaceplane is carrying, Mr. McDowell said on-board sensors could be capable of imaging or intercepting transmissions of electronic emissions from terrorist training sites in Afghanistan or other hot spots.
---