President Obama: American hearts 'heavy with hurt'
In his radio address Saturday, President Obama said 'every parent in America has a heart heavy with hurt.' Republicans canceled their radio address, House Speaker John Boehner saying 'I join the president – and all Americans – in sending prayers and condolences to the victims' loved ones.'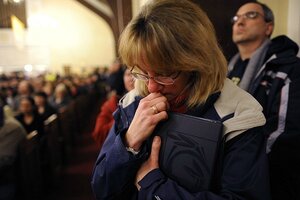 Andrew Gombert/AP
Addressing a stunned nation, President Barack Obama on Saturday grieved for the children and teachers massacred in Newtown, Conn., declaring that "every parent in America has a heart heavy with hurt."
Obama, addressing the tragedy for the second time since the violence erupted Friday, sympathized with the families of the dead and said he and his wife, Michelle, "are doing what I know every parent is doing - holding our children as close as we can and reminding them how much we love them."
Obama spoke Saturday in his weekly radio and Internet address. Republicans, who typically also give an address, ceded their time so that Obama could speak for the nation.
"There will be no weekly Republican address this weekend so that President Obama can speak for the entire nation at this time of mourning," House Speaker John Boehner said in a statement. "I join the president – and all Americans – in sending prayers and condolences to the victims' loved ones."
---