Retail sales just ho-hum this holiday season
Preliminary reports show holiday sales rose only 0.7 percent over November and December, which could be the economy's worst holiday performance since 2008.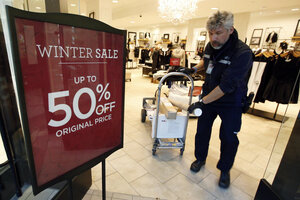 Michael Dwyer/AP
As the U.S. holiday season winds down, retailers were left to hope that post-Christmas sales could help salvage their worst performance since 2008, preliminary data showed.
Holiday-related sales rose 0.7 percent from Oct. 28 through Dec. 24, compared with a 2 percent increase last year, according to data from MasterCard Advisors SpendingPulse.
The preliminary estimate from SpendingPulse was in line with other estimates showing weak growth during the holiday season, when retailers can book about 30 percent of annual sales and in many cases half of their profits.
On Tuesday, the International Council of Shopping Centers and Goldman Sachs Weekly Chain Store Sales Index said sales rose only 0.7 percent in the week ended Saturday.
And last week, research firm ShopperTrak lowered its holiday season forecast, calling for sales in November and December to increase only 2.5 percent from 2011, down from 3.3 percent.
The latest holiday season sales could be the worst performance since 2008, during the last recession, when sales dropped 4.4 percent in November and December.
"The broad brush was Christmas wasn't all that merry for retailers, and you have to ask what those margins look like if the top line didn't meet their expectations. So it could be a very unmerry Christmas for retailers," said Kim Forrest, senior equity research analyst at Fort Pitt Capital Group in Pittsburgh.
---