Snow piles up in New England
On Saturday afternoon and Sunday morning parts of southern New England and the Northeast received up to a foot of snow. Some lost power, while others were stranded trying to travel.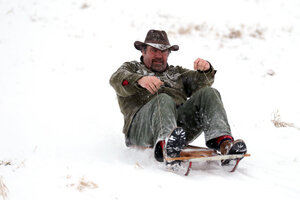 Amy Herzog/The New Jersey Herald/AP
Up to a foot of snow fell in parts of southern New England with the latest winter storm to move through the Northeast, national weather forecasters said Sunday.
The storm began Saturday afternoon and ended by Sunday morning, with some power outages but no reports of critical injuries or major property damage. Dry weather was expected for days in southern New England, although strong winds may chill the bones.
Meteorologist Frank Nocera of the National Weather Service in Taunton, Mass., said southern New England appeared to be the hardest hit.
Six to 12 inches of snow fell in Rhode Island, eastern Connecticut and eastern Massachusetts, including Foxborough where the New England Patriots play. The exception was at Boston and the Cape Cod area where rain was mixed with snow. There two to four inches fell. Many residents lost power after wet snow piled up on power lines.
The storm spread over the Northeast and parts of Ohio on Saturday, just days after the regions were hit by another storm that moved in from the nation's midsection.
---