Lance Armstrong to admit doping to Oprah
Cyclist Lance Armstrong will reportedly admit to using performance-enhancing drugs in an upcoming interview with Oprah Winfrey. Despite repeatedly denying accusations of doping in the past, Armstrong has said he will answer questions honestly and candidly.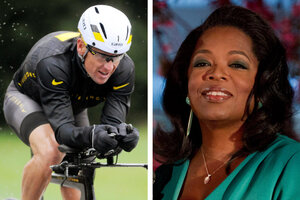 AP Photos/File
Lance Armstrong plans to admit to doping throughout his career during an upcoming interview with Oprah Winfrey, USA Today reported late Friday.
The interview, scheduled to be taped Monday and broadcast Thursday night on the Oprah Winfrey Network, will be conducted at Armstrong's home in Austin, Texas.
Citing an anonymous source, USA Today reported that the disgraced cyclist plans to admit using performance-enhancing drugs, but likely will not get into details of the allegations outlined in a 2012 report by the U.S. Anti-Doping Agency that led to Armstrong being stripped of his seven Tour de France titles and banned for life from the sport.
His representatives declined comment late Friday, including attorney Tim Herman, but Armstrong sent a text to the Associated Press early Saturday morning saying: "I told her (Winfrey) to go wherever she wants and I'll answer the questions directly, honestly, candidly. That's all I can say."
The New York Times first reported last week that Armstrong was considering making a confession.
The 41-year-old Armstrong, who vehemently denied doping for years, has not spoken publicly about the USADA report that cast him as the leader of a sophisticated and brazen doping program on his U.S. Postal Service teams that included use of steroids, blood boosters and illegal blood transfusions.
Winfrey's network announced Tuesday that Armstrong agreed to a "no holds barred" interview with her.
---