Lance Armstrong: Blow to kids' idol, brings new respect for Dad
(Read article summary)
Lance Armstrong was stripped of his Tour de France medals today, and this household of cycling fans has equal parts disappointment with their former idol and respect for their dad who flirted with pro cycling and left because of the pressures of doping.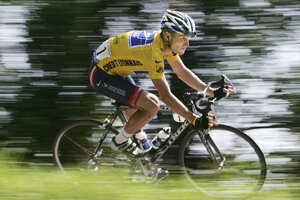 Stefano Rellandini/Reuters
Today my four sons lost their hero Lance Armstrong when the International Cycling Union agreed with US authorities on the charges he's both a doper and a pusher, stripping him of all seven Tour de France titles. Maybe that's a good thing because they learned that their dad, who once had a shot at pro-cycling and shied from it because he feared the pressure of an ingrained doping circuit, was telling the truth and not just making excuses.
RELATED: Are you a 'Helicopter Parent?' take our QUIZ!
Learning that the International Cycling Union has stripped Lance Armstrong of his Tour de France titles for not only doping, but allegedly bullying teammates into doing the same, is like learning Superman doesn't hail from Planet Krypton and Clark Kent faked all his stories for the Daily Planet.
---