Lance Armstrong and Gary Kasparov: Explaining heroes to your child
(Read article summary)
Lance Armstrong and Gary Kasparov: A mom has to pick up the pieces in explaining the bad breaks for her children's heroes in the past week.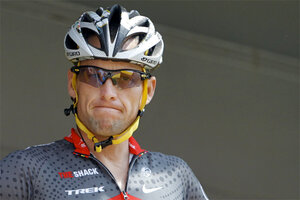 Christophe Ena/AP
My husband and I have raised our four sons to be keen on two things: chess and cycling. This week, two of their mightiest heroes have fallen, and we are faced with exploring their actions and the apparent lack of something all children prize highly – fairness. First grandmaster Garry Kasparov was jailed in Russia during a social protest, and today seven-time Tour de France Winner Lance Armstrong, who has fought mountains and his own body, gave up the fight over doping allegations.
"Mom, this is the worst week ever," said Quin, age eight, when he heard about Mr. Armstrong. "Did he really cheat? That would stink. How could he just give up if he didn't do it?" A moment later he added, "And have we figured out if that grandmaster is going to jail for biting a police officer?"
Both these men are heroes to my boys and both have always been highly controversial figures. Explaining two major falls – albeit quite different kinds – in a week has been a challenge.
Kasparov became the youngest ever undisputed World Chess Champion in 1985 at the age of 22 by defeating then-champion Anatoly Karpov. He has had long-term battles with chess' governing body FIDE over political issues and has become a loud voice in and outside Russia against President Vladimir Putin. The answer about Kasparov was easier than the one about Armstrong.
---