Unbaby.me: Don't like Facebook babies? Look out, I'm posting vacation pix
(Read article summary)
Do babies on your Facebook news feed annoy you? There's an app for that: Unbaby.me won't keep me from posting my vacation baby pix, but you won't have to see them.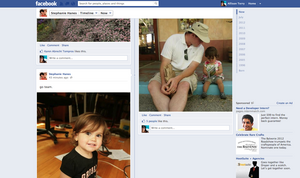 Staff
And here I was, ready to post a few choice vacation photos starring our adorable (of course) toddler, when I checked back into the news world (it is my job, after all) and saw all the stories about unbaby.me.
Unbaby.me, in case you have not already downloaded this Google Chrome extension for your Facebook page, is a technological tool that, according to it's tagline, "deletes babies from your newsfeed permanently – by replacing them with awesome stuff."
RELATED: Are you a Helicopter Parent? Take our quiz!
Yes, if all those baby shots from your once-cool, now goo-goo-ga-ga-ing friends are gumming up your page (all the scrolling you must do to find the droll commentary on life or witty observations on current events), you have recourse. Now, rather than snapshots of your nephew's first birthday party, or your college roommate's kid at the beach, or your colleague's daughter jumping rope, you will see a professional photo of a dog. Or a race car. Or a manatee. Maybe a plate of bacon. Something "awesome."
"Rejoice," is how unbaby.me puts it on its website. "Now you don't have to look at all your friends' annoying kids."
Move over Mommy Wars. Bring on the Parent-Versus-Non-Parent Smack Down.
Unbaby.me, it appears, has hit a nerve. As of this morning it had garnered nearly 70,000 Facebook "likes" on its webpage. The New York Times reported last week that it had already been download 19,000 times.
---