Manti Te'o at Notre Dame: Who knew the girlfriend was a hoax?
Manti Te'o was Notre Dame's star linebacker. But was he also a liar? Notre Dame says Manti Te'o was duped by an online hoax about a fictional girlfriend, and her death, during the football season. Who knew about the hoax?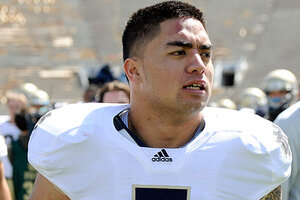 (AP Photo/Joe Raymond)
Not long before Notre Dame played Michigan State last fall, word spread that Fighting Irish linebacker Manti Te'o had lost his grandmother and girlfriend within hours of each other.
Te'o never missed a practice and made a season-high 12 tackles, two pass breakups and a fumble recovery in a 20-3 victory against the Spartans. His inspired play became a stirring story line for the Fighting Irish as they made a run to the national championship game behind their humble, charismatic star.
Te'o's grandmother did indeed die. His girlfriend, Lennay Kekua, never existed.
In a shocking announcement Wednesday night, Notre Dame said Te'o was duped into an online relationship with a woman whose "death" from leukemia was faked by perpetrators of an elaborate hoax. The goal of the scam wasn't clear, though Notre Dame said it used an investigative firm to dig into the details after Te'o disclosed them three weeks ago.
The hoax was disclosed hours after Deadspin.com posted a lengthy story, saying it could find no record that Kekua ever existed. The story suggests a friend of Te'o may have carried out the hoax and that the football player may have been in on it — a stunning claim against a widely admired All-American who led the most famed program in college football back to the championship game for the first time since 1988.
---