Alabama bunker rigged with two bombs
Jimmy Lee Dykes, who held a 5-year old boy hostage, rigged his Alabama bunker with two explosives. The boy, who turned 6 Wednesday, appears to be doing well and is back at home.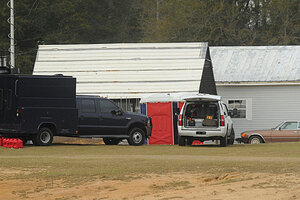 (AP Photo/AL.com, Joe Songer)
As FBI and police negotiators sought for days to coax an Alabama man into freeing a kindergartner held hostage in an underground bunker, the captor was planning for violence, authorities say.
He rigged the bunker with explosives, tried to reinforce it against any raid, and when SWAT agents stormed the shelter Monday to rescue the boy, Jimmy Lee Dykes engaged in a firefight that left the captor dead, the FBI and officials said.
After the nearly weeklong hostage ordeal, relatives say the boy who turned 6 on Wednesday appears to be doing well and is back at home. He was seized off a crowded school bus Jan. 29 after authorities say the 65-year-old gunman shot the driver dead and took the child to the bunker, where he was held until Monday's rescue.
While the FBI has largely been tight-lipped about how it monitored Dykes' behavior and mood in the days leading up to the rescue, the latest revelations suggest authorities were dealing with an abductor fully prepared for more violence even as he allowed police to send food, medicine and toys into the bunker for the boy.
An FBI statement late Tuesday said Dykes had planted an explosive device in a ventilation pipe he'd told negotiators to use to communicate with him on his property in the rural Alabama community of Midland City. The suspect also placed another explosive device inside the bunker, the FBI added.
Dykes appears to have "reinforced the bunker against any attempted entry by law enforcement," FBI special agent Jason Pack said in the statement providing significant, new details about how it all ended.
When SWAT agents stormed the bunker to rescue the boy from the man's property in the rural Alabama community of Midland City, Dykes "engaged in a firefight with the SWAT agents," Pack added.
Officers killed Dykes, said an official in Midland City, speaking on condition of anonymity because the official wasn't authorized to discuss a pending law enforcement investigation.
---