Two men, two women wounded in Bourbon Street shooting
On Saturday night an argument amongst Mardi Gras revelers resulted in a shooting on New Orleans' famed Bourbon Street, wounding four people. New Orleans has struggled with a rise in violent crime and gun violence since Hurricane Katrina.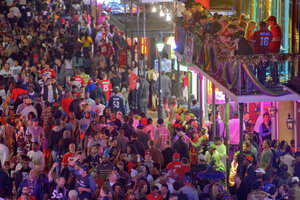 Matthew Hinton/AP
Gunfire wounded four people on New Orleans' famed Bourbon Street as a costumed crowd partied amid the countdown to Mardi Gras, sending people running, police and bystanders said.
Four shots rang out rapidly Saturday night, followed by screams as some in the crowd staggered into one another and a nearby wall, video taken by a bystander and released by police showed. Authorities said in an email Sunday that an argument involving one of the victims led to the shooting. They described the video — released early Sunday — as showing two men leaving the argument and returning with a third before the gunfire erupted.
No arrests were immediately reported, and police said they were seeking the three men who fled.
The wounded were two males and two females, New Orleans Police spokesman Frank B. Robertson said. One male victim was in guarded condition Sunday with shots to the abdomen, thigh and pelvis, Robertson said. The second male was shot in the buttocks, one female was shot on the chin and right foot, and the second female was shot on the toe, according to Robertson's statement.
Police had said late Saturday that the most severely wounded man was undergoing surgery while the others were stable. None was identified by age or name.
The shooting came on the last weekend of partying before Mardi Gras, the Fat Tuesday celebration that is the signature tourist event of the year in New Orleans. And for thousands, the partying continued despite the shooting.
---