Massachusetts voters have options in Senate race
The special election to fill John Kerry's recently vacated Senate seat, has a crowded field. Three Republicans and two Democrats have submitted petitions to run. Last year's Massachusetts Senate race had no primary, but was still the most expensive campaign in the state's history.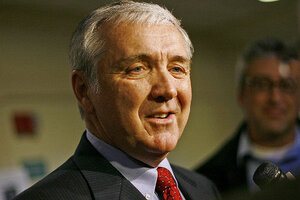 AP Photo/The Patriot Ledger, Greg Derr
Republican U.S. Senate hopeful Gabriel Gomez is proposing a lifetime ban on lobbying by former members of Congress and term limits for both senators and representatives.
In parts of a speech released by his campaign late Wednesday, Gomez doesn't say how many terms should be allowed, but said limits would phase out what he called "career politicians."
The comments are the first policy statements from Gomez, who is planning to kick off his campaign with a tour of the state Thursday. In the excerpts, Gomez describes himself as a "new kind of Republican."
"Obviously as a Republican I hold some conservative views," Gomez said. "But I'm an independent thinker, and I have no interest in going to Washington to engage in partisan trench warfare."
Gomez is one of five candidates — three Republicans and two Democrats — who say they've collected more than the 10,000 certified signatures needed to land a spot on the April 30 primary ballot. The Senate seat became vacant when Democrat John Kerry resigned to become U.S. Secretary of State.
The Cohasset businessman and former Navy SEAL joins Norfolk state Rep. Daniel Winslow in the GOP primary along with former U.S. Attorney Michael Sullivan, who said Wednesday his volunteer signature effort was successful.
---