Fiscal emergency declared in Detroit by Michigan governor
Gov. Rick Snyder has a candidate in mind to take over the struggling city's finances, though he did not identify that person when he made his declaration Friday.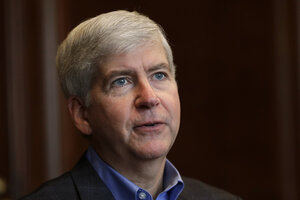 Paul Sancya/AP
Michigan Governor Rick Snyder on Friday formally declared Detroit in a fiscal emergency and said he had identified a top candidate to take over financial management of the destitute city.
The declaration virtually assures that the state of Michigan will assume control of Detroit's books, though Snyder was careful to say there is still a window of 10 days for city leaders to convince him otherwise.
"I believe it's appropriate to declare the city of Detroit in financial emergency," Snyder told a forum of community leaders at a Detroit public television station.
Detroit has faced the steepest population decline of any major American city in recent decades. Once the fifth largest US city, which shone as the birthplace of the US automotive industry and Motown music, it now ranks 18th in size with about 700,000 people - after suffering a 25 percent decline in population between 2000 and 2010.
Snyder would not identify the top candidate to run Detroit or say whether the person was from Michigan or outside the state. Some residents have said he should name an African-American to manage a city that is 83 percent black.
Referring to the candidate, the Republican governor said, "They have vast experience working on relationships, they have strong financial knowledge, strong legal knowledge and that ability to say how do we build teams and work together," the Republican governor said of the candidate.
The emergency manager will eventually have vast powers to develop a financial plan, revise or reject budgets, consolidate departments, reduce or eliminate the salaries of elected officials, sell eligible city assets, lay off workers and renegotiate labor contracts.
With the exodus of residents and jobs as the auto industry contracted, the city has suffered from declining tax revenue and rising crime while saddled with the infrastructure and labor costs of a bygone era.
---