Authorities hope to get better look at Florida sinkhole after house demolition
After beginning to tear down the house above the sinkhole Sunday, authorities hope to investigate further and recover the body of a man presumed dead since last Thursday night.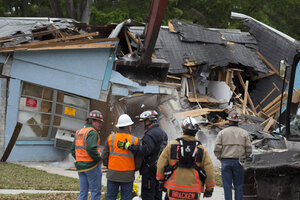 Scott Audette/REUTERS
Authorities hope to get a better look at a sinkhole that swallowed a man in his Florida home once demolition crews knock down the remaining walls of the house Monday and begin clearing away the debris.
Crews on Sunday razed more than half the home, managing to salvage some keepsakes for family members who lived there.
The opening of the sinkhole has been covered by the home, but once emergency officials and engineers can see inside it more clearly, they could begin planning how to deal with it. They also need to decide what will happen to the two homes on either side of the now-demolished house. Experts say the sinkhole has "compromised" those homes, but it's unclear whether steps can be taken to save them.
Jeremy Bush, 35, tried to save his brother, Jeff, when the earth opened up and swallowed him Thursday night.
On Sunday morning, Bush and relatives prayed with a pastor as the home — where he lived with his girlfriend, Rachel Wicker; their daughter, Hannah, 2; and others — was demolished and waited for firefighters to salvage anything possible from inside. The home was owned by Leland Wicker, Rachel's grandfather, since the 1970s.
The operator of the heavy equipment worked gingerly, first taking off a front wall. Family belongings were scooped onto the lawn gently in hopes of salvaging parts of the family's 40-year history in the home.
As of Sunday afternoon — when demolition had stopped for the day and only a few walls remained — a Bible, family photos, a jewelry box and a pink teddy bear for Hannah were among the items saved. Firefighters also were able to pick out the purse of one of the women in the home.
Cheers went up from family, friends and neighbors each time something valuable was salvaged.
Wanda Carter, the daughter of Leland Wicker, cradled the large family Bible in her arms. She said her mother and father had stored baptism certificates, cards and photos between the pages of that Bible over the years.
"It means that God is still in control, and He knew we needed this for closure," she said, crying.
Carter said she spent from age 11 to 20 in the home, and she had to close her eyes as the home was knocked down.
---