L.A. archdiocese settles sex abuse cases for $10 million
The archdiocese of Los Angeles, its former leader Cardinal Mahony, and an defrocked priest have agreed to pay $10 million to settle four child sex abuse cases.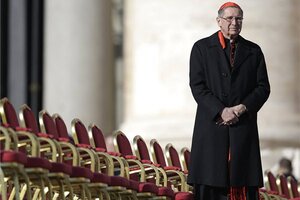 Gregorio Borgia / AP
The Roman Catholic Archdiocese of Los Angeles, its former leader Cardinal Roger Mahony and an ex-priest have agreed to pay a total of nearly $10 million to settle four child sex abuse cases brought against them, lawyers for the victims said on Tuesday.
Cardinal Mahony, who retired in 2011 as head of the largest U.S. archdiocese and is now in Rome taking part in choosing a new pope, was accused of helping a confessed pedophile priest evade law enforcement by sending him out of state to a church-run treatment center, then placing the priest back in the Los Angeles ministry.
The defrocked priest named in all four cases is Michael Baker, who ultimately was convicted and sent to prison on 12 criminal counts of felony oral copulation with a minor involving two boys who reached a previous settlement with the church.
The latest agreement came four weeks before civil suits brought by two men, now in their 20s, who claimed they were molested as 12-year-olds in the late 1990s, were scheduled to go to trial, plaintiff's attorney Vince Finaldi said.
As part of the settlement, approved by a Los Angeles judge earlier this month, none of the parties admitted wrongdoing.
But Mr. Finaldi said the settlement, together with the recent release of internal church records documenting the role of Mahony and others in covering up child sexual abuse by the clergy, comes "as close to an admission of guilt as you're going to get from the archdiocese."
---