Rubio: Immigration deal still needs hashing out
Republican Sen. Marco Rubio cautioned that the bipartisan group of senators working on immigration reform legislation still has details to work out. Democrat Chuck Schumer said the group was on track.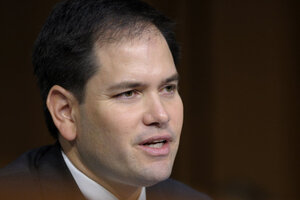 Susan Walsh/AP/File
Even with one of the largest hurdles to an immigration overhaul overcome, optimistic lawmakers on Sunday cautioned they had not finished work on a bill that would provide a path to citizenship for 11 million illegal immigrants.
The AFL-CIO and the pro-business U.S. Chamber of Commerce reached a deal late Friday that would allow tens of thousands of low-skill workers into the country to fill jobs in construction, restaurants and hotels. Yet despite the unusual agreement between the two powerful lobbying groups, lawmakers from both parties conceded that the negotiations were not finished.
"With the agreement between business and labor, every major policy issue has been resolved," said Sen. Chuck Schumer, the New York Democrat who brokered the labor-business deal.
But it hasn't taken the form of a bill and the eight senators searching for a compromise haven't met about the potential breakthrough.
"We haven't signed off," said Sen. Lindsey Graham, R-S.C.
"There are a few details yet. But conceptually, we have an agreement between business and labor, between ourselves that has to be drafted," he added.
Yet just before lawmakers began appearing on Sunday shows, Sen. Marco Rubio warned he was not ready to lend his name — and political clout — to such a deal without hashing out the details.
---