More Americans willing to let illegal immigrants stay, poll finds
But there's less clarity on what the public wants legal status to look like. Fewer than half, for instance, approve of a 'pathway to citizenship' for illegal immigrants who meet criteria, says the Pew poll.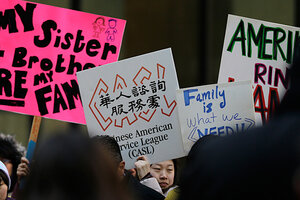 Nam Y. Huh/AP
As Congress has warmed up to the idea of immigration reform, one important reason may be that the general public has been shifting in the same direction.
Majorities across all demographic and political groups say there should be a way for illegal immigrants to remain in the US legally, if they meet certain requirements, according to a new poll by the Pew Research Center.
And, judging by other polls, the public's view of immigrants and immigration has become more favorable over the past couple of years.
That's significant context for members of Congress who are considering major immigration reform legislation, an idea backed by President Obama. Legislation that would tighten border security, while expanding opportunities for legal immigrant status, has gained political steam in part from a Republican Party aiming to revive its appeal among minority voters.
About 11 million immigrants are estimated to be in the United States illegally, roughly 1 immigrant in 4.
The question of what form legalization should take remains controversial, with many Americans reluctant to support a "pathway to citizenship."
In the Pew poll, released Thursday, no more than about half in any demographic group – and 43 percent overall -- supported such a pathway, even as most respondents favored some form of legal residency.
But that result conflicts with some other recent polls that have found stronger support for the "pathway" idea.
The pattern seems to be that when a survey gives several options – the pathway, some other form of legal status, and no legal status – only a minority of respondents opt for the path to citizenship. But when they're asked to simply give a thumbs up or down on the pathway, the idea has majority support.
---