Rutgers fires basketball coach Mike Rice after abusive video is broadcast by ESPN
Rutgers University in New Jersey suspended coach Mike Rice after a videotape of him physically and verbally assaulting players on the men's basketball team was presented to university officials last fall. After the tape was broadcast on ESPN Tuesday, the university terminated Rice's employment.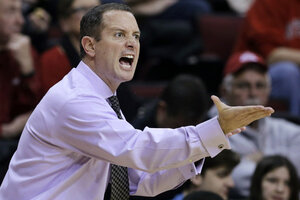 Mel Evans/AP
Rutgers fired basketball coach Mike Rice on Wednesday after a videotape aired showing him shoving, grabbing and throwing balls at players in practice and using gay slurs during practice.
The videotape, broadcast Tuesday on ESPN, prompted sharp criticism from Gov. Chris Christie, and the head of the New Jersey Assembly called for Rice to be fired.
With mounting criticism on a state and national level, the school decided to take action, relieving Rice of his duties after three largely unsuccessful seasons at the Big East school. There will be a national search to replace him.
Rutgers athletic director Tim Pernetti was given a copy of the video in late November by a former employee. After hiring independent investigators to analyze the tape, he suspended Rice for three games, fined him $50,000 and ordered him to attend anger management classes. University president Robert Barchi saw the tape and signed off on the initial punishment.
But in a Wednesday email, Rutgers referred to new information and "a review of previously discovered issues" as the reasons for Rice's termination.
"I am responsible for the decision to attempt a rehabilitation of Coach Rice," Pernetti said. "Dismissal and corrective action were debated in December and I thought it was in the best interest of everyone to rehabilitate, but I was wrong. Moving forward, I will work to regain the trust of the Rutgers community."
---