Election results: Gun control advocate wins Jesse Jackson Jr.'s seat
Election results: Former Illinois state Rep. Robin Kelly easily captured Tuesday's special election for the Congressional seat previously held by Rep. Jesse Jackson, Jr., who vacated it under an ethical cloud.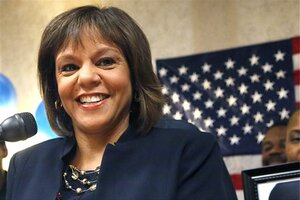 Charles Rex Arbogast / AP / File
Former Illinois state Rep. Robin Kelly, whose campaign received a $2 million boost from New York City Mayor Michael Bloomberg, easily captured Tuesday's special election to replace former U.S. Rep. Jesse Jackson Jr.
The win for the Matteson Democrat was widely expected as the Chicago-area district, which Jackson represented from 1995 until late last year, has been a Democratic stronghold for roughly six decades. Kelly emerged from a crowded field in the February primary by focusing heavily on anti-gun efforts and was helped by ads from Bloomberg's super PAC.
Kelly, 56, vowed to become a leader in the federal fight for gun control legislation and echoed the promise after her win.
"I'll continue to speak about it in the district. I'll continue to be in touch with those who have lost their children. I'll speak out where I can in D.C.," she told The Associated Press before her victory speech in Matteson.
She easily won over Republican community activist Paul McKinley, three independent candidates and a Green Party candidate in the district that includes city neighborhoods, suburbs and rural areas.
Her win also marked the end of an era for voters who had supported Jackson at the polls with healthy majorities each election after he took office. The Chicago Democrat stepped down in November after a mysterious medical leave where full details were never disclosed to the public. He cited his health and acknowledged he was under federal investigation in his resignation letter.
Months later — as campaigning to replace him ramped up — he pleaded guilty to charges that he misspent $750,000 in campaign funds on everything from toilet paper to furs.
Jackson was the third congressman in the district to leave under an ethical cloud, and many voters said Tuesday that they were just ready for a change.
---