Colbert Busch trades jabs with Sanford in S.C. debate
During tonight's debate, Stephen Colbert's sister, Elizabeth Colbert Busch, criticized ex-Gov. Mark Sanford's policies as a member of Congress. Mr. Sanford pointed out that she contributed to his post-congressional campaign for governor, so "I don't think it must have bothered her that much."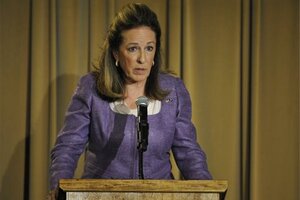 Rainier Ehrhardt / AP
Former South Carolina Gov. Mark Sanford, trying to resurrect a political career, and Democrat Elizabeth Colbert Busch traded verbal jabs during spirited exchanges Monday night in their only scheduled debate in the race for the state's vacant 1st Congressional District seat.
With eight days to go before the May 7 special election, Sanford stressed his efforts to rein in spending as a three-term member of Congress and as a two-term governor. The Republican noted that he was the first governor in the nation to turn back economic stimulus funds.
But Colbert Busch reminded Sanford that he once used taxpayer funds to "leave the country for a personal purpose" — referring to the extramarital affair with an Argentine woman he had while governor. Sanford remarked that he didn't hear the response and asked to have the question repeated.
"Answer the question," Colbert Busch chimed in.
Sanford wasn't biting.
Colbert Busch, saying she would use her years of business experience including her work in the steam industry, criticized Sanford for voting in Congress against harbor dredging and building a higher bridge so the Port of Charleston could handle a new generation of larger container ships.
"My opponent voted against the dredging and voted against the bridge," said Colbert Busch, the sister of comedian Stephen Colbert.
Sanford shot back that, if it bothered her so much before "I don't think you would have written me a $500 check as I left the Congress to run for governor. I don't think it must have bothered her that much." He said he opposed the money coming in the form of earmarks.
---