What role will Obama play in immigration reform? It's not clear, yet.
The House and Senate appear to have very different opinions of how to achieve an immigration overhaul, however, President Obama has no plans to tour the country to make a case for immigration reform as he did for healthcare. Instead, he is meeting with various groups in Washington.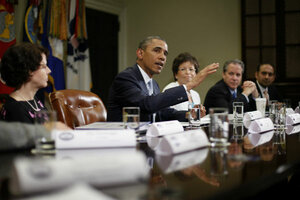 AP Photo/Pablo Martinez Monsivais
President Barack Obama is treading carefully in deciding how visible a role he should play during perhaps the most delicate stage in the effort to overhaul U.S. immigration laws.
The Democratic president, having fought with conservatives in the Republican-controlled House of Representatives over everything from budget cuts and tax hikes to healthcare reform and environmental policy, is aware they are in no mood to compromise or to be lectured.
Obama has so far held back from major criticism of his political opponents even when it appears they could stall a central objective of his second term.
House Republicans are adamant against approving the Senate version of legislation and are instead talking about passing several bills that address various immigration problems, but not necessarily legalizing the estimated 11 million undocumented residents.
Unlike the public relations blitz that accompanied his healthcare law in 2010, Obama has made no sweeping travel plans to campaign for the legislation nor delivered any major speeches on the subject in the weeks since the Democratic-led Senate approved an immigration bill that he backed.
Instead, he has held meetings with groups like the Congressional Hispanic Caucus and sent out top economic adviser Gene Sperling and others to make the case publicly that legalizing the status of undocumented immigrants will prove an economic boon for the United States in the long run.
---