Alex Rodriguez in a race against time before sanctions come down
The baseball player is trying to recover from injuries fast enough to play again for the Yankees before expected sanctions for using performance-enhancing drugs.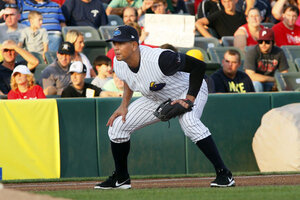 Tom Mihalek/AP
Alex Rodriguez feels singled out — by Major League Baseball in its drug investigation and by his New York Yankees.
"There are a lot of layers," he said after homering Friday night for the Double-A Trenton Thunder in his return from a leg injury. "I will say this: There is more than one party that benefits from me not ever stepping back on the field. And that's not my teammates and it's not the Yankee fans."
With a lengthy suspension looming, the New York Yankees star hit a two-run homer to left in the third inning of a 6-2 win over the Reading Fightin Phils.
Rodriguez is among 14 players facing discipline in MLB's Biogenesis drug investigation, and suspensions are expected on Monday. While others are expected to receive 50-game bans, Rodriguez's penalty figures to be far harsher — perhaps through the 2014 season or even a lifetime ban.
"I think it is pretty self-explanatory. I think that is the pink elephant in the room," he said. "I think we all agree that we want to get rid of PEDs. That's a must. I think all the players, we feel that way. But when all this stuff is going on in the background and people are finding creative ways to cancel your contract and stuff like that, I think that's concerning for me, it's concerning for present — and I think it should be concerning for future players, as well."
Coming back from hip surgery and a quadriceps injury, A-Rod hopes to rejoin the Yankees for Monday's series opener at the Chicago White Sox, what would be his first time back in the major leagues since last October.
---