1,600 homes evacuated as firefighters battle Idaho blaze
A wildfire burning near Hailey and Ketchum, Idaho prompted authorities to order the evacuation of 1,600 homes. On Friday the fire grew rapidly, fed by wind gusts, low humidity, and dry ground fuels.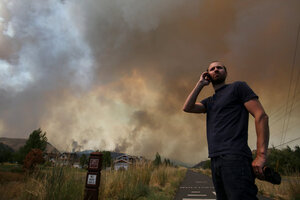 Ashley Smith/Times-News/AP
A wind-driven wildfire burned its way through sage and pine trees near the Idaho mountain resort community of Sun Valley as sheriff's deputies expanded evacuation orders to 1,600 homes
The evacuation orders for the 100-square-mile Beaver Creek Fire included homes in drainages and foothills west of the towns of Hailey and extending to north of Ketchum in central Idaho.
More than 600 state and federal firefighters were working to get the blaze under control and protect property in the affluent resort region that's a second home to celebrities such as Arnold Schwarzenegger, Tom Hanks, and Bruce Willis.
Another 1,000 firefighters were expected to report to the scene later Friday night, said Shawna Hartman, spokeswoman for the Beaver Creek Fire.
Fire managers say the fire grew rapidly Friday thanks to wind gusts topping out at 30 mph, low humidity, and tinder-dry ground fuels.
"It's safe to say we've got a lot of structures at risk," Hartman said.
Managers at the Sun Valley Ski Resort turned on water cannons that are normally used for wintertime snowmaking.
One home in an outlying valley was destroyed Thursday night, said Bronwyn Nickel, a spokeswoman for Blaine County, where the fire is burning.
In addition, some private insurers have sent in their own crews to provide structural protection for homes with values that can stretch into the millions of dollars, Nickel said.
"There are private engines that insurance companies have sent in," she said. "They're on site, they're working with our local firefighters and law enforcement."
Fire officials said crews spent the day building fire lines and trying to funnel the fire into areas burned during another blaze in 2007. A huge DC-10 tanker, capable of carrying 12,000 gallons of retardant, was among aircraft making drops on the blaze.
Jack Sibbach, a Sun Valley Resort spokesman, had to leave his home south of Ketchum on Friday. He said he watched as airplanes and helicopters made runs in roughly 3-minute intervals, dropping water and red retardant to create a barrier against flames west of U.S. Highway 75.
---