Detroit bankruptcy: Union members and other creditors file objections
Detroit bankruptcy: Residents, retirees, and union members filed objections Monday to Detroit's request for bankruptcy protection, which could eliminate billions in debt.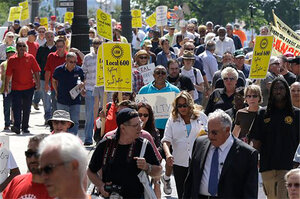 Paul Sancya/AP
The city's biggest employee union, retirees, and even a few dozen residents filed objections Monday to Detroit's request for bankruptcy protection, the largest municipal filing in U.S. history and a move aimed at wiping away billions of dollars in debt.
The filing by the American Federation of State, County & Municipal Employees Michigan Council 25 also came before expected objections from two city pension systems, bondholders, banks and others who hope to convince federal Judge Steven Rhodes not to allow the Chapter 9 petition by Detroit emergency manager Kevyn Orr.
Rhodes set Monday as the eligibility objection deadline. Attorneys for large creditors have until just before midnight to file objections electronically. Individual creditors who fear losing their pensions and paying more for health care began filing objections Monday in person at the court.
By early Monday evening, more than 100 objections had been filed including those made by several smaller city unions.
"We think the creditors and banks will make objections during the litigation on a proposed plan of adjustment, which we are slating to be finished by year's end," said Bill Nowling, spokesman for Orr.
Since 1954, 29 of 62 municipal bankruptcies pursued in the U.S. have been dismissed.
The AFSCME, the AFL-CIO and city retirees claim in their objection that Michigan's emergency manager law — which gives Orr his authority — impairs vested pension rights violating the state constitution. They also claim Orr did not negotiate in good faith with city creditors and that he has not yet proved Detroit is insolvent.
---