Chicago Bears: 5 takeaways from their win over Giants
Chicago Bears: The Monsters of the Midway handed New York their sixth straight loss Thursday night. With the win, the Chicago Bears snapped their own two-game losing streak.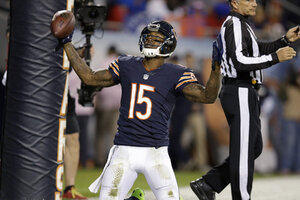 Nam Y. Huh/AP
The Chicago Bears saw an opponent with a championship in its recent history, not a team searching for its first victory.
That made them just a little apprehensive about this game.
Turns out, they had good reason.
Jay Cutler threw two touchdown passes to Brandon Marshall, and Tim Jennings had two of Chicago's three interceptions against Eli Manning in a 27-21 victory over the New York Giants on Thursday night.
The Bears (4-2) snapped a two-game slide following a 3-0 start. New York is 0-6 for the first time since the 1976 team dropped its first nine, a stunning turn for a franchise that won the Super Bowl two years ago.
"They're fighters," Chicago's Lance Briggs said. "We've got a fighting team. That's a Tom Coughlin-coached team. They're going to come out well-prepared, and they executed well."
The Giants came in clinging to the belief they could claw their way back into the NFC East race because every team in the division has a losing record. It's hard to see that happening the way they're playing.
---