Are Washington 'Redskins' doomed? NFL's resistance to change showing cracks.
The NFL has agreed to meet with the native American group leading the campaign against the Redskins nickname. The owner of the Washington Redskins is not attending.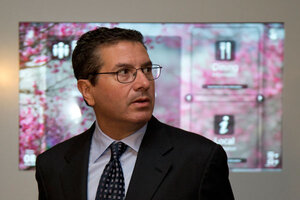 Carolyn Kaster/AP
Washington Redskins owner Daniel Snyder is appearing increasingly isolated in his vow never to change his team's controversial nickname.
This week, the National Football League announced that it has scheduled a meeting as soon as next month with the Oneida Indian Nation, the organization that is leading the campaign against the nickname, which it says is racist.
"We respect that people have differing views," league spokesman Brian McCarthy told the Associated Press. "It is important that we listen to all perspectives."
The meeting represents a shift. Up to now, the NFL and Mr. Snyder have presented a unified front, with NFL commissioner Roger Goodell in June calling the nickname "a unifying force that stands for strength, courage, pride and respect," and reiterating last month that "ultimately, it is Dan [Snyder]'s decision."
But for a league that is hypersensitive about its public image – which avoided any whiff of controversy in its Super Bowl halftime shows for years after the infamous 2004 "wardrobe malfunction" – the negative attention generated by the battle over the Redskins nickname is a serious concern.
The question is: Is the upcoming meeting a sign that the NFL is about to abandon Snyder?
Experts have their doubts.
---