Congress, Boeing riled by huge defense contract for foreign firm
The Air Force's $35 billion award to a European aircraft company is one of its largest ever.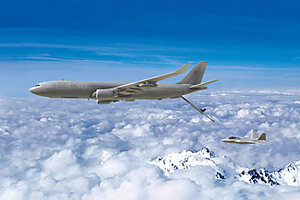 Northrop Grumman Corp./Reuters
The Air Force wants a new version of its refueling plane, and it hired a French firm to help supply 179 of them. Now, many in Congress want a do-over.
The contract, at $35 billion, is no small potatoes. It is, in fact, one of the biggest contracts the Pentagon has ever awarded.
But with the domestic economy slumping and with the sting of France's opposition to US policy in Iraq fresh in memory, lawmakers are asking how it is that America's own Boeing Co. did not prevail in the competitive bidding process. Some have expressed concern that the Air Force may have been biased against Boeing because of a previous refueling-plane scandal, while others have decried the loss of new jobs at home.
Clearly, in giving the contract last week to a partnership of Northrop Grumman Corp. and European Aeronautic Defence and Space Co. (EADS), a French concern that owns Airbus, the Air Force surprised many. Boeing had been favored to win it, triggering suggestions that the service changed the rules midway through the process or simply made the wrong call.
---