Pause likely in U.S. drawdown in Iraq
Troop levels could settle at 'presurge' levels of 140,000.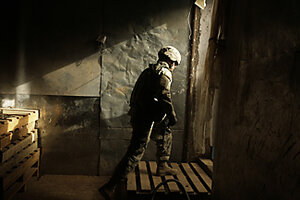 Maya alleruzzo/ap
Concerns in Iraq that recent security gains are fragile and could backslide mean that President Bush is likely to hand over to his successor a war being fought by as many as 140,000 US troops – about the same number as before the "surge" of some 35,000 troops announced in January 2007.
The White House says Mr. Bush will not make any decisions on troop levels in Iraq until after Gen. David Petraeus, the US commander in Iraq, and Ryan Crocker, the US ambassador to Iraq, testify before Congress April 8 and 9. But with General Petraeus already recommending against further drawdowns beyond those set to take place by July, and with Vice President Dick Cheney suggesting that further reductions are unlikely to be put in place now, it seems doubtful that Bush would go in any other direction.
The review of troop levels comes just as violence in Iraq is flaring in ways that could place new question marks over US military plans. Intense fighting involving feuding Shiite militias as well as Iraqi forces in the southern city of Basra is challenging the Iraqi security forces' ability to take over combat and public-order duties more fully from their American mentors. Further complicating the decisionmaking on troop levels are growing indications that a cease-fire declared last summer by powerful Shiite cleric Moqtada al-Sadr for his Mahdi Army is unraveling.
---