While reservists serve, their jobs don't always wait
Between 2004 and 2006, returning volunteers filed 16,000 complaints against employers.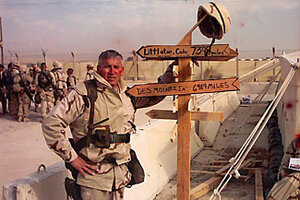 Courtesy of Steve Duarte
Steve Duarte worked in human resources for the same company for 19 years. But within months of returning from Iraq with his Marine Reserve unit in 2003 – his second military deployment in two years – he was told his job was ending in a week.
"There was that initial shock – and then the shock of 'What am I going to do?' " recalls Mr. Duarte of Littleton, Colo., whose expenses at the time included tuition for his son at the University of Denver.
As the wars in Iraq and Afghanistan grind on, tensions are mounting between the military's civilian volunteers, trying to step back into their professions, and employers, straining at times to cope with a growing cadre of workers who are away at war for months then expect to regain their former jobs. A 1994 law – the Uniformed Services Employment and Reemployment Rights Act (USERRA) – gives workers that right, along with promotions or other benefits they would have earned had they not been deployed. But with more than 600,000 reservists and guardsmen mobilized since 9/11, thousands have found their jobs gone or positions diminished when they returned.
---