U.S. Army hopes to keep native Arabic speakers
Incentives likely to include large payments to soldiers now working as translators.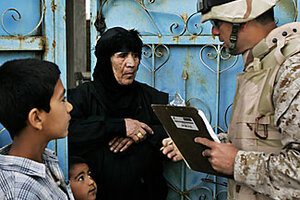 Jacob Silberberg/AP/File
The Army may begin paying a retention bonus of as much as $150,000 to Arabic speaking soldiers in reflection of how critical it has become for the US military to retain native language and cultural know-how in its ranks.
Only one other job in the Army, Special Forces, rates such a super-sized retention bonus. Now, as the military makes a fundamental shift toward rewarding the linguistic expertise it needs the most, it is expanding a program to train and retain native Arabic and other speakers from the same regions in which it is fighting.
"This is a war not only against the US, but against our way of freedom," says Sergeant Madi, a native interpreter and US citizen who asked to be identified only by his surname due to security concerns for him and his family. "We have been fighting for over 16 years against Islamic extremism. It is also my war."
After the invasion of Iraq and the insurgency that followed, the US military recognized its dearth of linguistic competence in the country it had just toppled, and it scrambled to identify Arabic and other linguists.
The military's conventional language training program, the Defense Language Institute in Monterey, Calif., could not churn out enough American soldiers proficient in Arabic, Kurdish, Dari, Pashtu, and Farsi, and the military quickly turned to private contractors to fill the gap. Numerous programs have sprouted up, including one at Fort Lewis, Wash., where soldiers are given a 10-month immersion program in language and culture.
---