US Navy well-versed in interdicting suspect cargo ships
Tracking North Korea's Kang Nam is not an extraordinary duty for American warships.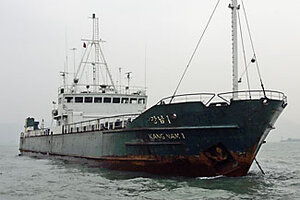 Vincent Yu/ AP/ File
In January the amphibious transport USS San Antonio stopped a Russian-owned cargo ship, the Monchegorsk, in the Red Sea. US intelligence had received a tip that the freighter was carrying weapons exports from Iran – a violation of United Nations sanctions.
A US Navy boarding party confirmed the presence of arms. They directed the ship to Cyprus, where authorities impounded crates of Iranian-made mortar components, shell casings, and powder. US officials believe the cargo had been bound for Syria, perhaps for further distribution to the Palestinian militant group Hamas.
As this incident shows, the US Navy and allies have ample experience at interdicting suspect vessels on the high seas.
Currently, Navy warships are trailing the Kang Nam, a North Korean cargo ship suspected of carrying weapons bound for Myanmar (Burma).
The Kang Nam outcome remains uncertain. The new UN Security Council resolution that authorizes member nations to stop and inspect North Korean ships for illicit weapons does not authorize use of force.
---