Kimberly Munley ended Fort Hood rampage using Virginia Tech lessons
Kimberly Munley, the police officer identified as bringing an end to Fort Hood rampage Thursday, applied protocols established in the aftermath of the 2007 Virginia Tech shootings.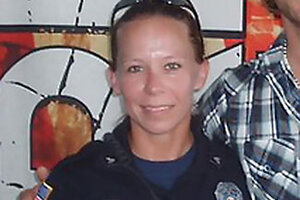 AP
Lessons learned from the horrific Virginia Tech shootings in 2007 are credited with averting an even bigger massacre at Fort Hood, Texas, Thursday afternoon when police officer Kimberly Munley confronted the gunman without waiting for backup and took him down with four shots.
News reports in the aftermath of the shootings at Virginia Tech, where 32 died, suggested the first responders' decision to be careful and wait for backup may have cost lives as that gunman moved unchecked from classroom to classroom while law enforcement massed outside. The state review panel's report, though, said the police responded quickly and used "appropriate active shooter procedures." [Editor's note: The original version misrepresented the review findings.]
The lessons of Virginia Tech found their way to Fort Hood's Special Reaction Team, which had practiced an entirely new protocol for at least a year before Thursday afternoon's rampage here, in which 13 were killed and at least 28 wounded.
"The lesson from Virginia Tech was, don't wait for backup but move to the target and eliminate the shooter," says Chuck Medley, chief of Fort Hood's emergency services. "It requires courage and it requires skill."
The task on Thursday fell to the petite Ms. Munley, a civilian police officer employed by the Army at Fort Hood. Munley had taken part in intensive active-shooter training during the past year.
---