Fort Hood Senate hearings risk politicizing Hasan investigation
The Senate Homeland Security Committee hearings into whether the Army missed warning signs about Maj. Nidal Malik Hasan could lead to finger-pointing about Fort Hood shooting and political battles over Obama's terrorism policy.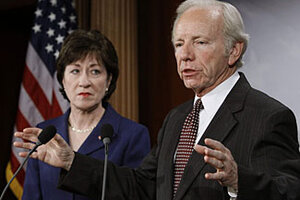 Alex Brandon/AP
The Senate Homeland Security Committee Thursday began hearings "as serious and consequential as any it's ever undertaken," in the words of its chairman Sen. Joseph Lieberman (I) of Connecticut, into whether and how the Army missed the red flags raised by the apparent self-radicalization of Maj. Nidal Malik Hasan.
The Army psychiatrist is charged with killing 13 at Fort Hood, Texas.
President Obama has warned against politicizing ongoing investigations into the incident – and Senator Lieberman has said he won't – but the hearings already appears fraught with politics.
"The problem is that in the hyperpartisan atmosphere on Capitol Hill at present, any congressional inquiry is likely to degenerate into a round of finger-pointing, fueled by turf rivalries between law enforcement and intelligence agencies and efforts for party advantage," writes Shaun Waterman, a security analyst at ISN Security Watch.
---