Senators say Fort Hood shooting was terrorism
Several lawmakers and terror experts at Senate hearings on the Fort Hood shooting Thursday called the incident a terrorist attack, and warned of the danger of homegrown jihad.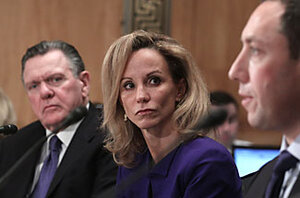 Lauren Victoria Burke/AP
The Senate Homeland Security Committee Thursday began its probe into the Nov. 5 Fort Hood shooting with few details about what everyone really wants to know: the true motives of alleged shooter Army Maj. Nidal Malik Hasan.
Nevertheless, several lawmakers at the hearing called the rampage a terrorist attack.
That label was supported by most of the terror experts who testified at the Senate hearing. Addressing questions about how red flags were missed in the lead-up to the rampage, experts pinpointed a rise in homegrown terrorism and expressed the need for the government to establish, in the words of retired Army Gen. John Keane, "clear specific guidelines as to what is jihadist extremist behavior, how do you identify this behavior, and how does it manifest itself?"
The Fort Hood shooting, like no other incident, has "fueled discussion about the spectre of violent extremist ideology in our midst," said Juan Zarate, the former Deputy National Security Advisor for Combating Terrorism.
"There is no smoking gun that reveals Hasan's true motivations and signaled intent, so the patchwork of data points and behavioral clues in light of the incident ... appear to point to a path of violence," he added. "The question then is whether the data points were seen and evaluated properly."
---